If I were to guess, I receive 2.25 bookstore gift cards and 1.25 books around Christmas each year. Nearly 100% of the tangible books have been non-technical in nature.  This year's book — Beer School: Bottling Success at the Brooklyn Brewery — was a present from my soon-to-be sister-in-law.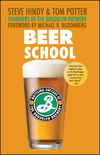 As I don't tend to read much these days, it is taking a while to get through this particular gift, but I would already recommend it. It is a nice combination of beer history, entrepreneurial stories/advice and business/people stuff as told by the Brooklyn Brewery founders, Steve Hindy and Tom Potter, a journalist and banker, respectively, in a surprisingly light and down to earth manner.  Note: If you want to learn how to brew your own beer, you will need to turn somewhere else as this book probably isn't for you. 
While sharing life and business lessons learned while building a successful brewery in NYC, Tom dedicates an entire chapter to the creation of the business plan where he goes as far as to write: "To the extent possible, avoid the word conservative."  His rationale is clear and to the point:
When a business plan says that it 'conservatively' estimates this or sales will 'conservatively' reach that, most readers get a suspicious twitch.  When using the word conservative, you're trying to feed the reader a conclusion and shortcut the private analysis.  It doesn't work.  Readers will come to their own conclusions, wherever you try to lead them.  The reader is thinking: Don't tell me that's a 'conservative' estimate; just give me the facts, and I'll tell you.
It is a very interesting view and, based on my experience with project estimation, I may start taking Tom's advice to heart.  I mean, how many times have you provided a detailed work breakdown structure with accompanying dev hours just to have a project manager or someone with "authority" change your numbers solely based on their interpretation of the required effort?  This type of thing happens a lot — especially when you include a word like conservative along with your estimate.  In my experience stating an estimate is conservative is a green light for someone else to rework your numbers any way they wish. 
I know I am taking the original tip a bit out of context, but I think it still applies.  Though we tend to have opinions on everything, we might be better off just providing the facts while trusting the recipient will do with our numbers as they deem most fit. I, for one, know most of the folks which receive my estimates are intelligent individuals and they can certainly come to their own conclusions and agree or disagree with whatever I might provide. 
So, when I produce my next estimate, I'm going to present my numbers and the supporting facts and I'm going to keep my opinions to myself.  Well, at least until my estimate is challenged and I am stuck doing twice as much development in half as much time and then all Hell is going to break loose.  🙂